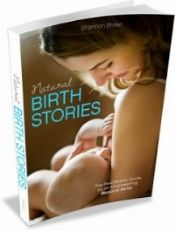 I have mentioned this book in a previous post about my own natural birth
experience
but I wanted to share more with you this week.
"Natural Birth Stories" by Shannon Brown of
Growing Slower
is a compilation of birth stories from a variety of mothers with a wide variety of experiences. Some birthed naturally at home, birth center or hospital.
One of the things that drew me to this book is that the goal is to make new moms feel empowered and capable of having a natural birth. When I had my first I was afraid of the pain of labor, epidurals were pushed as being the "norm' in my birthing classes and when things got rough I caved.
Our bodies were made for this though! "Natural Birth Stories" points out that there is a very small number of women who actually have natural births in the United States.
"This leaves less than two percent of all women in the United States that give birth naturally. "
I absolutely loved reading the stories of all of the contributing mothers! It felt good to read stories of mothers who made it through long labors with the support of their husband and midwife as well as those who are more like me and tend to have very fast labors. I also liked that the stories weren't just home or birth center births. Some were hospital births which I find encouraging too because there are areas where a birth center is not near enough or you aren't up to the idea of a home birth.
Another great aspect of this book is that Shannon Brown also includes information on childbirth classes, finding a midwife, what contractions really feel like and making a birth plan.
"Natural Birth Stories" would make a wonderful Christmas gift for new mom in your life whether this is her first or tenth or somewhere in between. You can have it printed and bound to give as a gift or read it yourself! "Natural Birth Stories" is empowering women to take control of their birth experience and realize we can have a wonderful birth experience without the medical intervention when it's not truly necessary.
You can click
here
to get your copy of "Natural Birth Stories" by Shannon Brown, get the book for $0.34 as part of the
Ultimate Healthy living bundle
today only or enter below to win a copy of the book.
a Rafflecopter giveaway