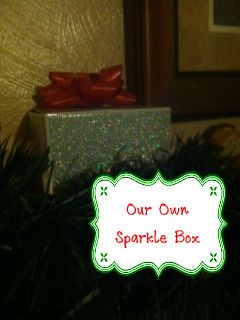 Last year we "accidentally" got this book and I'm so glad we did! My husband had signed up for a Christian book club and when we forgot to decline the monthly book special we were sent the Sparkle box..
The book is the story of a little boy who helps his parents deliver food and blankets to a homeless shelter, give gloves to a man who needed them and donate money for a well in Africa. All the while the Sparkle Box is on the mantel.
Finally on Christmas day the little boy is allowed to open the box after finding the toy train he really wanted. He was confused to find that the box only contained strips of paper.On each were the things he and his parents had done to help others and spread the Light of Jesus. The box was their gift to Jesus on His birthday!
Last year when we got the book we didn't have time to put anything into it before Christmas. This year though we've had the chance to add a few things so far. It's really funny how even after reading the book my children haven't figured out what's in the box. They didn't spot me put it together while they played one day and put it on the mantel.
So far they've picked out gifts to donate at the "Wish Tree" at our grocery store, helped unload boxes and boxes and boxes of toys for the local charity that gives toys to families for Christmas gifts and we donated to World Vision for 3 ducks for a family in need.
They've had a lot of fun with these things. Picking the toys was quite the project and unloading the trucks was a blast! They were quite worn out that evening.
They still don't know that I've added these things to our Sparkle Box. I 'm excited for them to open Jesus' birthday gift in a few weeks. All of this is to teach them that Christmas isn't about us or the things we are getting from people but instead it's about celebrating Jesus and helping others.
How do you teach your children about giving back at Christmas time?