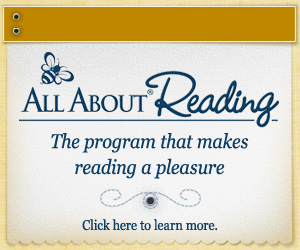 Last week I shared about switching back to All About Spelling for Chelsea. Well this weekend I got some exciting news from All About Learning Press that I couldn't wait to share with you. Their All About Reading Level 4 is finally available!
Better yet, there is a sale for All About Reading Level 4 now through September 15th! This sale only applies to the level 4 reading program items
.
AAR Level 4 Materials (Teacher's Manual, Student Packet, 2 Readers): $99.95 ($20 off!)
AAR Level 4 Student Packet (includes Activity Book): $40.95
AAR Level 4 Soar with Reading Activity Book only: $25.95
AAR Level 4 Teacher's Manual only: $32.95
AAR Level 4 Heirloom Antics Reader: $16.95
AAR Level 4 The Voyage Reader: $16.95
AAR Level 4 Soaring Balloon Stickers: $0.85
To see a little of what All About Reading is about you can try the first activity from the level four materials called Eagles Learn to Fly. This activity looks like a lot of fun and helps to review words learned in level three.
Click here to enter the All About Reading Level 4 giveaway AND more free activities and a sneak peek at the program.
note: This post contains affiliate links. These do not effect the cost to you, only blesses my family with a small portion.